Sowers Car, Truck, and Motorcycle Show
Car, Truck, & Motorcycle Show Presented by Sowers Club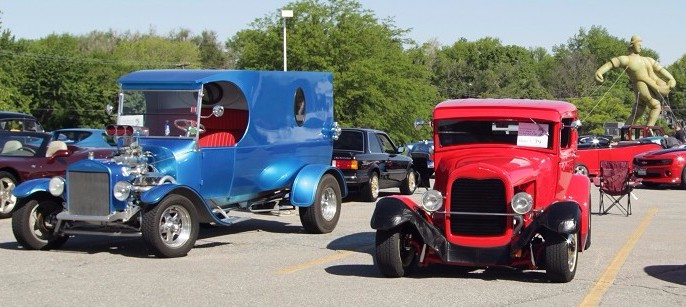 Where:  Gateway Mall, 61st and O Street - West of Younkers
When: Sunday, May 21, 2017
            8:00 - 11:00 a.m.                      On Site Registration
            11:00 a.m.                                 Judging, All hoods and trunk lids down, doors closed to be judged.
  Cost: $15 if received in Sowers Office by May 10.
            $20 if received after May 10th and day of show.
Checks payable:  The Sowers Club of Nebraska Foundation
Entry Form is available below or at the Sowers Office, 1701 S. 17th Street, Suite 1H, M-F 9-12, 1-4. 
Goodie Bags to the First 50 Entries.
Proceeds will go to Lincoln Family Autism Network and Child Advocacy Center in Lincoln.
This form stopped accepting submissions on May 21, 2017 8:00 am CDT.
***Classes and Judging Criteria***
Show Cars:  This group of cars are shown by the extreme enthusiast and are usually not daily drivers.  They are usually given points on undercarriage, engine, and trunk areas.  These areas will not be judged in this show.  All classes will be judged on eye appeal and cleanliness inside and out including wheel well openings.  Modified - 2 or more body modifications
A - Antiques - Original to 1931                 A1 - Modified                            K - 1955-1957 Thunderbirds
B - ???? to 1948                                        B1 - Modified                         L - 1964-1973 Mustangs
C - 1949-1960                                            C1 - Modified                          M - 1974-1993 Mustangs
D - 1961-1971                                            D1 - Modified                           MM - 1994-current Mustangs
E - 1972-1980                                            E1 - Modified                             N - 1953-1967    C1-C2 Corvettes
F - 1981-1995                                            F1 - Modified                             O - 1968-1996    C3-C4 Corvettes
G - 1996-Current                                       G1 - Modified                             P - 1997-2013    C5-C6 Corvettes
H - 1967-1992 Camaros & Firebirds                                                           Q - 2014-Current  C7 Corvettes
I - 1993-2002 Camaros & Firebirds                                                             R - Dodge Chargers
J - 2010-Current Camaros                                                                           S - Dodge Challengers
Cruising Class - Daily Drivers:  This group of cars are Show and Shine, Daily Drivers, and Cruising ready.  Judged as in all classes on eye appeal and cleanliness inside and out.  Show cars not allowed in this group.
T - ????-1967                                                                                            DD - Low Riders
U - 1968-1980                                                                                             EE - ???? - 1996    Station Wagons   
V - 1981-1993                                                                                             FF - ???? - 1957    Trucks
W - 1994-Current                                                                                       GG - 1958- Current    Trucks
AA - Imports - ie VW, Triumph, Jaguar, BMW, Mercedes, etc.               HH - Motorcycles (USA name Plates - Harley, Indian)
BB - Limited Production American or Import XX Specialty                     JJ - Motorcycles (All Others)
CC - Rat Rod                                                                                             KK - Motorcycles Specialty (Cushman-Home Made)
GROUP OR CLUB PARKING:  If you want to show together, send or bring in your group's paid entries, no later than May 10, 2017.   Indicate on your entry form, the name of your group and the number of cars entered. (i.e. Rebels of Lincoln - 8, John Ford Group - 4, etc.)  Your group will be referred to as this group for registration and parking.  NO STALLS RESERVED UNLESS PAID FOR.  If you do not have all of the information on the cars in your group, you will still need to send in a blank with the entry fee to reserve your space.
After May 10th, entrants may still take registration forms to the office or send in with all of the above information.  
The Show Committee reserves the right to amend or delete classes or reclassify entries.  Burn outs or excessive speed in and around teh show area will not be allowed and will be reported to authorities and may be ticketed.